Cloning an IDF enables an iCMS user not to keep repeating data input process where imported goods, consignor and consignee details are like a previously imported consignment.

The process of cloning an IDF is described as follows:

Click on search on the left side of the window and key in IDF registration number.

Highlight IDF details displayed in the query result.  Click on "Display" icon.  

Click on "Clone" icon (see screen shot below).  New IDF registration no. is generated. Status of IDF changes to "created".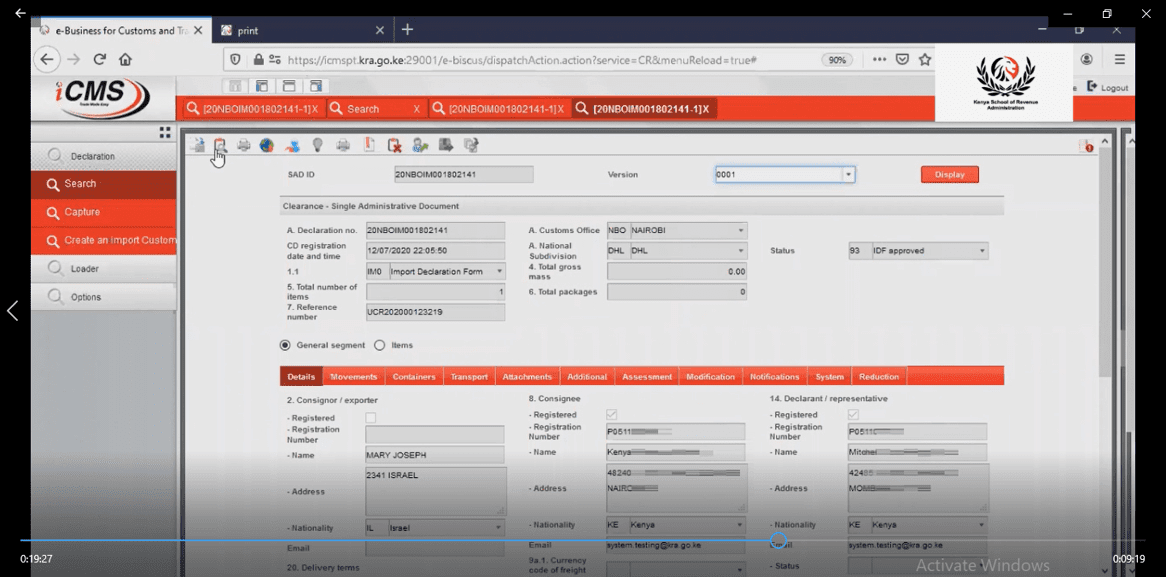 To register the IDF, click search on the left side of window and key in IDF registration no.  

Click Search icon and highlight IDF details in the query result.

Click "Process" icon.  Confirm details on IDF and make any changes as appropriate.
Cont. 
Select the General Segment button and click "Attachments" to attach supporting document – proforma invoice.  

Click on small green cross and fill in certificate details.  Upload supporting document by clicking on larger green cross; select file and click "open".

Click on "Submit" icon and SAVE 

Go to Item segment and make necessary amendments.

Click on "Assess" icon at the top of the screen, then click on Register icon. Confirm registration.

Status changes to "Registered".

Click Search tab on the left side of the screen. Fill in the IDF registration no. and search.  Status will show "approved" for goods that do not require pre-importation permits. 
1. ABC Limited intends to import Ladies' leather bags from Turkey.  The Exporter is Extravagant Bags Limited, Turkey, 5649 001 Vile Street, Instanbul.  Consignee's PIN is P123456789M.  Their address is P. O. Box 69872, Nairobi.  The goods are valued at USD 5,000 and weigh 7,000 kgs.  The quantity of goods are 1000 pieces.  The goods will be imported through the port of Mombasa and processed for release at Interpel CFS.
Required:
Create and register an IDF.

Print approved IDF.

Clone the approved IDF.  
Discuss the roles and responsibilities of customs agents / clearing and forwarding agents face in IDF Declaration process.