Supplementary manifest is an addition of TD to an existing manifest due to excess landed consignments. The legal basis for amendment of a cargo manifest is Section 24 (4) & (5) of the EACCMA 2004.

The following is a step-by-step process of amending a cargo manifest:

Log in as Shipping Agent; click on green tick; click on manifest module.

Click supplementary/ cancellation on the left window. 

Click on manifest for operator; type in no. of manifest that you want to supplement on the registration no. field; search by clicking the binoculars icon.

Select "plus sign" that says add a supplementary TD.

Fill in details of BL, consignee, destination, country of consignor, country of routing (Kenya), port of loading, date of loading, notify party, T status, temporary storage, date, place of delivery (KEMBA) etc. (see screen shot below).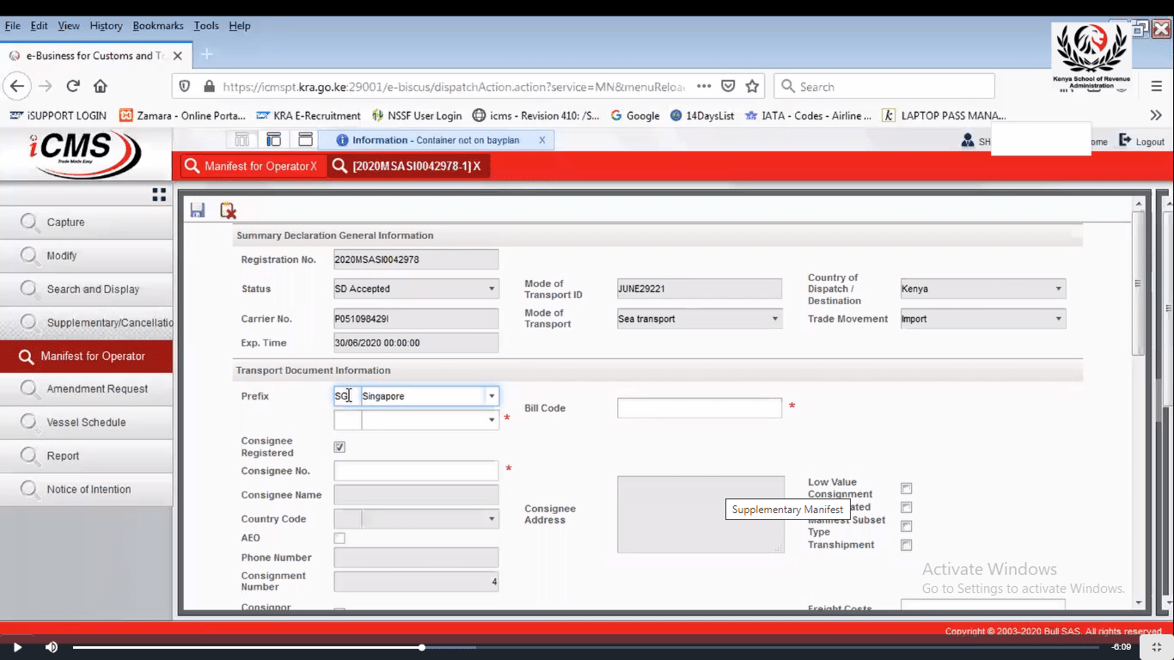 SAVE

Scroll down and click on New LP.  Fill in details (see screen shot below):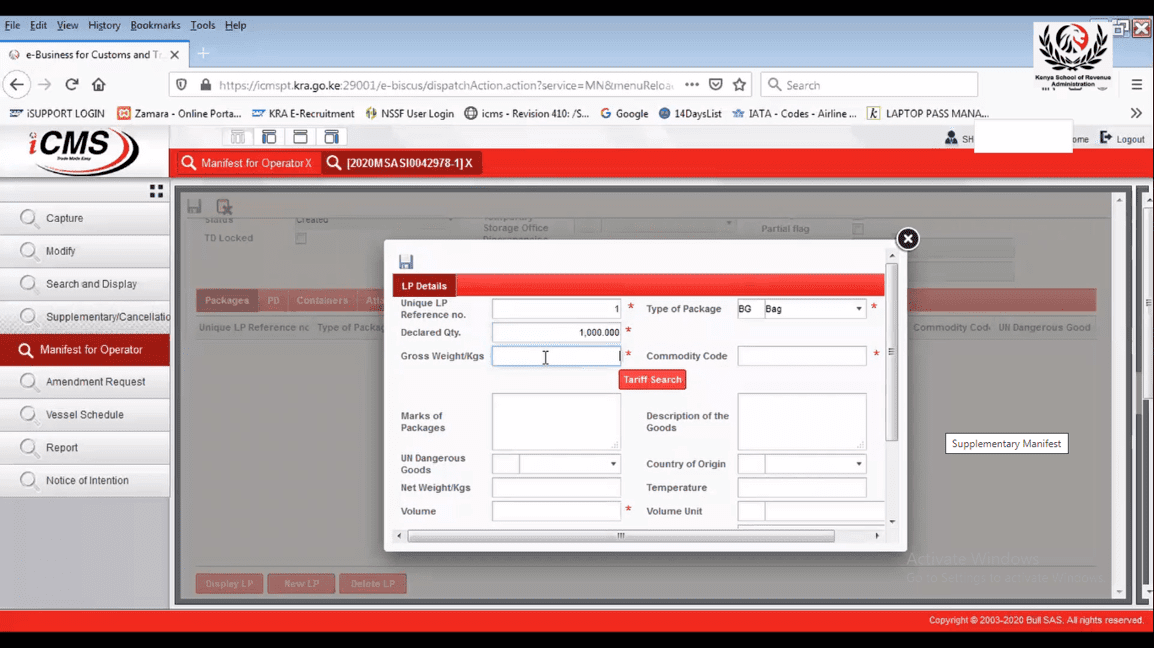 Save; Exit; Submit- pop up message will show submitted successfully.

Once request is submitted, Customs manifest office will approve the request.

Once approval is done, S/Agent will be able to search for the approved supplementary manifest under summary declaration on the left window. Type in manifest no. in the registration no. field. Select version 2; search; select and display.

Status will be pending payment; click print e-slip icon and go and pay amendment fee ($10).
Guiding Notes:
The status of the master SD at the time when a manifest amendment & supplementary manifest are requested is "accepted".

Supplementary manifest caters for excess landed cargo thus we expect the containers in the request for supplementary manifest to be contained in the bay plan.

The general segment of a manifest cannot be amended.

iCMS will only allow the carrier agent who lodged/deconsolidated the manifest to request for the supplementary manifest.

Transport documents are uniquely identified by the combination of their covering SD, prefix, and bill code.
The Manifest (also called the Summary declaration) supports all types of transport documents (bills of lading, airway bills, rail consignment, road transport documents) or transit documents.

The status of the original (consolidated) transport document before Deconsolidation is "under deconsolidation".

The total gross weight for all BLs in a House manifest shall be exactly equal to sum of gross weights of the master BLs that constitute the House manifest